Our Response to COVID-19
Rapid production of lifesaving products: Face shields, face masks, and ventilator components
As the number of COVID-19 cases grows globally, we are working hard to provide critical supplies to hospitals, first responders, and the patients who need them most. We recognize the responsibility Fast Radius has to leverage manufacturing and supply chain innovations in the fight against this pandemic.
Because of this, we're working on a range of projects, from producing Personal Protective Equipment (PPE) to manufacturing life saving devices. Scroll down for more information around our efforts and how you can join in the Fast Radius response.
Medical Supply & PPE Manufacturing Projects
Medical face shields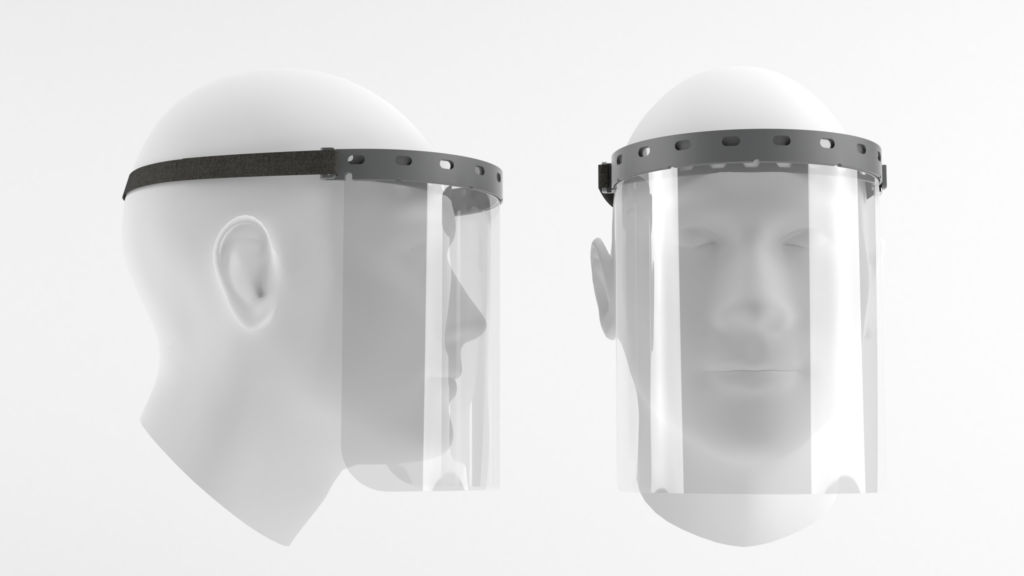 Background
The United States is in desperate need of protective face shields; doctors say the current shortage is creating a dire situation at hospitals around the country. For nurses and other medical staff treating COVID-19 patients, face shields offer critical protection — in addition to face masks — from airborne droplets that can transmit the virus.
Using face shields helps conserve surgical masks and N95 respirators, as first responders are less likely to be contaminated during encounters with COVID-19 patients. We are working to fast track production on these critical PPE devices.
Solution
Our team simplified and improved the design of the face shield bands currently in the market. The new design is additively manufactured and can be printed using several different materials to increase production volume.
As of today, we have the capacity to produce 10,000 face shields a day using a combination of an additively-manufactured headband and a polycarbonate shield. These will be distributed through a network of healthcare providers via Fast Radius, with the hopes of ramping production further.
At the same time, we are currently producing a smaller run of face shield bands at our Louisville facility and supplying the first production run to the University of Louisville.
Face masks
Background
With the necessary efforts in place to preserve the supply of highly-regulated N95 supply for healthcare workers, others are looking for face masks to use in daily life.
Solution
We designed a reusable mask that can be made on filament extrusion 3D printers.
This is an open source project in process, and we encourage you to contribute. Feel free to share any design improvements you make, and we might include them in the next version of the mask.
Please post pictures of your masks and tag us @fastradius on Twitter and Instagram. Contact us with any questions or feedback.
This mask itself is not a filter. There is a place in the mask where a filter can be inserted. This mask has not been tested, approved, or proven to slow or prevent the spread of COVID-19 and it is not intended for medical use.


Ventilator components
Background
According to the American Hospital Association, the United States is facing a potential 800,000+ shortfall in lifesaving ventilators during this crisis. In order to meet the near-term demand surge, companies are working hard to hyperscale production of ventilators. We are joining this fight.
Solution
We are working to actively supply both emergency ventilators and ventilator components. We are partnering with organizations that have an immediate need to either produce parts quickly through additive manufacturing, or scale production via conventional manufacturing methods.
Ready to make your parts with Fast Radius?